The benefits of a specialised consultancy over Big Four
In a recent analysis by the Management Consultancies Association – the representative body for management consulting firms in the UK – the researchers found that in the UK, small consultancy firms have grown at a rate of 18%, well above the growth rate of large and mid-sized consultancies. This trend is not unique to just the UK; in several more mature consulting markets, clients are turning to smaller consulting firms in a bid to find a more specialist offering and an intimate client-consultant relationship.  The desire for high quality consultancy has grown strongly with the need to increase profit amid an ever-changing backdrop of the evolving business environment. Founders of small consulting firms have an entrepreneurial instinct and tend to hire others that have a similar spirit when compared to the Big Four and larger consultancies. Due to this entrepreneurial approach, their consulting firm's culture moves around boldness and courage. Within this change there has been a specific rise in demand for expert consultants, which GK EPM is a forerunner.
There is an ever growing and necessary digital transformation happening to our lives, specifically in business and this filters into all industries.  Digital transformation requires a wide variety of expertise, deep technological capabilities and project management, all combined for a successful implementation and managed service.  Using a niche consultancy such as GK EPM will improve your quality control targets and overall fulfilment of the originally desired expertise and future iteration developments.  Big Four who provide general consultancy across many departments, technologies and services will work from a generalised blueprint of processes and will not have that single focus and dedication to specialise and lead in the desired area you need consultation. Larger firms are usually slow in adapting to new ideas because of established operating procedures, thus it is more challenging to bring a change to a business process within the organisation.  GK EPM will develop a personal relationship and bespoke plan with the passion of our partners to build a greater and unique platform designed solely for your company's individual criteria.  This will not be delivered by going with one of the Big Four.
Ultimately you want to genuinely like those you are going into partnership with as you will be committing to a project expected to take many months until completion. You require a flexible approach, with combined on-site and remote services available for your requests. You want your consultants to be hands-on at technical troubleshooting when implementing complex architectures, business strategies and enterprise applications.  Choosing a smaller consultancy will help reduce IT and maintenance costs in addition to supporting business growth and changing needs.  You will find a consistent culture of pragmatism and implementation strategy within niche consulting firms because they generally do not hire many juniors and tend to have more senior staff. This means they offer exceptional expertise to their clients. By doing so, strong implementation support is provided, and clients are going to be happy with what they see, and the services offered to them.  Being a smaller consultancy, they need to be more efficient with their resources as fewer people are working on the projects, thereby saving time and money for the partnership.  They do not have resources to waste, and this makes efficiency a top priority to finish projects on time.  As a client you will not wait long for their consultants to respond to messages or advance in the implementation.
Using smaller consulting firms have proven, on the back of their customer intimacy, to be more flexible in their pricing and risk-sharing models (e.g., fixed price offerings).  They are in the ideal position to evolve and pivot with the requisites and desires of their clients.
The three most frequently cited reasons why business leaders might choose an SME over a large consulting firm in the next year were a stronger value proposition (59%), lower costs (48%) and similar corporate culture (43%).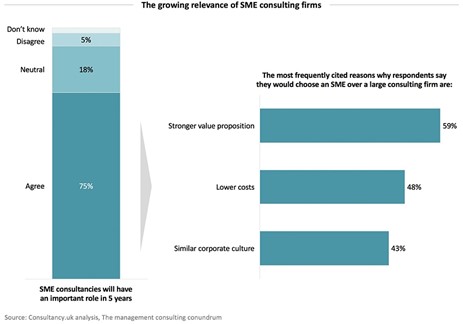 Companies are becoming weary of the big firms which operate in all areas, as a growing number of investigations into conflicts of interest – particularly in the case of the Big Four – have hit the sector. Meanwhile, the on average lower pricing of services from niche mean that clients can address heightened scrutiny on consulting expenditure, while also diversifying your suppliers. On top of this, improved access to technology has given smaller players more ammunition to compete more effectively, and much top talent is also drifting toward niche, as improved promises of work-life balance outweigh the prestige of larger brands.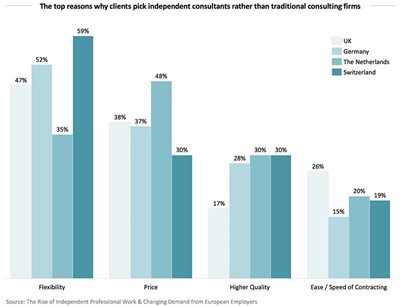 A paper commissioned by Globality – a group which works to match leading companies with top small and midsize service firms around the world – found that senior executives remain hungry for advice as they navigate the digital transformation of their industries. However, cost pressures and demand for specialised, technical expertise are causing companies to re-evaluate their consulting partnerships and consider new kinds of advisers. The headline finding from the survey – taking in opinions from 300+ business leaders from multinational companies with annual turnovers of over $1 billion in the US, UK and Europe – suggests that the rising cost of larger consultancy services which are often seen as providing broader, one-size-fits-all solutions, is causing executives to question what they are fundamentally getting for their money, and pushing many toward smaller, specialist firms in pursuit of better value.  Businesses ringfence a considerable yearly budget on professional services, which they feel a large portion of is wasted on unnecessary or bad advice from larger, less specialised consultancies. For a while, these concerns have been cited by numerous studies as driving a new interest among clients in independent and niche consulting firms. Now, a new report from the Economist Intelligence Unit has given fresh credence to such claims. 
The second and third most frequently cited challenges in a survey are lack of familiarity with the business, at 36% and lack of integration with other services, at 31%. This suggests that a sizeable chunk of executives feel that they are paying a premium for advice which they do not see as being relevant to their business.
Companies spending on expert consultants increases year on year. With markets diversifying and the changing landscape of business we all need varied and specified consultancy services to meet our unique requirements.  Companies today are offering unique services and capabilities; therefore, they need a specialist consultancy to support their development.  This is where a smaller firm such as GK EPM are able to offer a more granular, focused and tailored package which will implement and manage your finance and planning transformation needs.  The budgeting of companies means that they want the money they do spend to be maximised to the greatest affect by having niche consultants who will go the extra mile to meet their clients' individual objectives and ultimate goals.  Choosing niche gives you the personal touch and relationship those Big Four will not provide, along with overall greater cost-effectiveness and improved specialisation.
Most valuable reasons to pick a Niche Consultancy such as GK EPM
We are niche-driven and can move quickly on your project, can customise and change our approach easily to fit your project, budget, and have lower operating costs.
Able to find solutions in the shortest timeframe, are flexible and most likely talking directly to senior executives, which gives you a sense of relief and access to your counter parts in the partnership.
Offer highly specialised services, customised solutions and focus on specific capabilities that big firms are unable to compete with. GK EPM will service your business and project locally within the UK and will not outsource.
Have on-premises deployment options, can modernise your infrastructure efficiently and in a shorter amount of time. Less red tape to deal with and fast solutions are implemented. GK EPM will give you a more bespoke approach resulting in a personalised relationship between both teams (your team/our team).
Employ talented consultants with a unique skill set of expertise, tools and approaches.
Offer custom or out of the box services and approaches, that are always guided by Oracle best practice. GK EPM adapt well to changes in the roadmap and will execute quickly.
GK EPM Director Drew Kirton believes the true value afforded to our clients is GK's specialisation and deep knowledge in a focus technology/group of applications, that of Oracle Enterprise Performance Management Cloud. Our ability to work with clients enabled by strong project management, analysis and communication skills, sets a solid foundation for the expected high standards of professional relationships and business execution.
By Hibba Azman, March 2021
A Utopian vision of finance, think GK EPM